INCONSPICIOUS SEAMS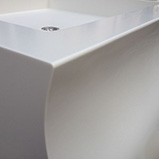 As a result of this striking feature and profficiency of our craftsmen we can ensure that even complex installations appear as a solid whole. Because there are no grout lines, your countertop together with seemless integrated Corian® sink or bowl looks like continuous material – making it ideal for both beauty and cleanliness.
---
NON POROUS/HYGIENIC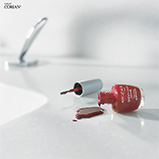 Corian® delivers superior stain resistance over laminated surfaces or stone, which allows for easier cleaning and provides optimum hygiene.
---
NON-TOXIC/ NONALLERGENIC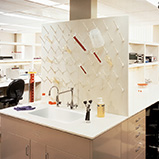 Corian® is an inert, non-toxic and nonallergenic material. DuPont™ Corian® can help you ensure that your designs meet critical industry standards.
---
COLOUR PALLETE
Corian® is available in a broad range of colours and textures for today's light and airy interior styles. Its colour, pattern and tone are uniform so Corian® will not fade like other countertop products.
---
THERMOFORMING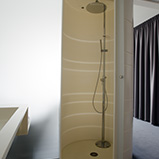 Because Corian® is an acrylic-based material, it can be thermoformed in a variety of ways using moulds at controlled temperatures. Corian® is a rare material that appears hard, but feels like soft leather or rubber while heated.
---
TRANSLUCENT
DuPont™ has introduced Corian® colours, which have been optimised to be especially translucen. Using relief-milling in the material sheets, they can be back-lighted, which opens many new possibilities for designers and architects.
---
EASY TO CLEAN/ MAINTANCE
Corian® is extremely easy to clean using soapy water. Since it is non-porous dirt, germs and bacteria stay on the surface where they can easily be wiped away or sanitized.
---
RESISTANT/DURABLE
Corian® has proven itself to be a remarkably durable, versatile material that is easy to live with in both the home and commercial environments. It survives the impacts, nicks and cuts that can occur with daily wear and tear.
---
REPARIABLE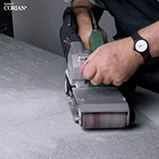 Surfaces in DuPont™ Corian® are renewable, meaning they can be fully restored to their original condition and beauty. Damages can usually be repaired on site by our specialists, without having to completely replace the material.
---
WARM & INVITING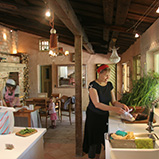 Corian has a warm, silky feel that's inviting to the touch. It looks fresh and clean without feeling sterile and cold.